We opened a pop-up store at "THE Daikanyama Shoten" held at Daikanyama Address 17dixsept on March 18 (Sat.) and 19 (Sun.). The lively joint store was run by three companies: coneri Shibuya, a pie specialty store run by Shunkado Group company Coneri Corporation, and Shibunama, a craft beer only available in the Shibuya Ward area. The collaboration theme was "Spring Gift Marche," and many people stopped by to buy items on a wagon for two days in a bright event space in the atrium.
The Daikanyama address is within walking distance from KISS, TOKYO Bench Object near the Shibuya Stream. Although this was our first time in Daikanyama, we were able to introduce KISS, TOKYO to customers of Address 17dixsept and people living nearby, some of whom had heard of Bench Objet. Also, at the silkscreen print workshop held concurrently in collaboration with Smile Present Co., the original tote making was a great success, as was the edition of KISS, TOKYO and Shibu-nama beer Bottle.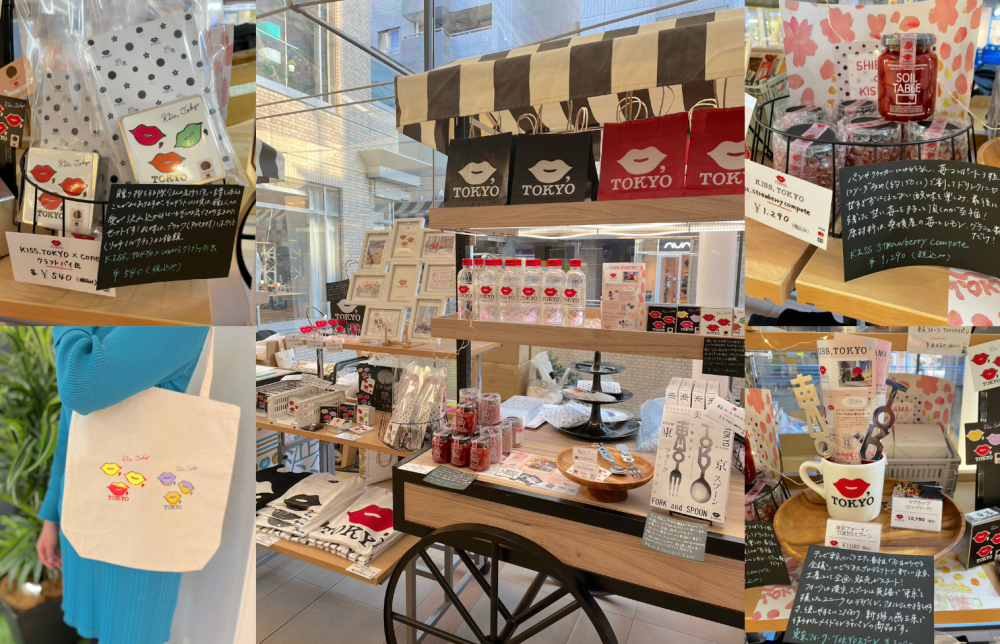 The newly released "KISS, TOKYO x coneri Kraft Pie Tin" with coneri and "kiss, strawberry compote" with SOIL TABLE were well received as gifts.
The products will be on sale at the following special web store until March 31.
◆Special web store for the limited time only during the event Ordering period: 3/18-3/31
▷https://kisspopup.base.ec
Limited shipping dates (3/20, 3/27, 3/31)
・ KISS,TOKYO x coneri Kraft Pie Tin Set: 4 types, 2 black and 2 white, 2,160 yen (tax included)
・Strawberry compote: Kiss, strawberry compote1,290 yen (tax included)
・Shibunama glass 1,760 yen (tax included), Shibunama mini tote 660 yen (tax ・included)


The next week, KISS, TOKYO pop-up will be held at SHIBUYA SLOW STREAM in Shibuya Stream on March 25(Sat.) and 26(Sun.). Please come and visit us.