Pie specialty store "coneri Shibuya" and KISS, TOKYO will collaborate to launch a new product on 3/18 (Sat).
Coneri carefully fills palm-sized pies with the handiwork of skilled pie artisans.
KISS, TOKYO wants to create happiness between people through the symbol of love called KISS.
The phrase "It's just a feeling," which is a cross between "just a feeling" and KISS, is used to describe the lightness of the pie. With the phrase "It's just a feeling," KISS, TOKYO delivers light and tasty love with just a kiss (no, really!). This is a collaboration between coneri and KISS, TOKYO.

When giving a gift, it is common to add the words, "It's just a feeling," but in fact, the gift contains a lot of love for the recipient. This set was born from such a realization. The key point is the handmade feeling of human warmth.
The pie inside is "the most chocolatey pie in the history of pies. The pie inside is a superb piece that aims to be "the most chocolate and the most crispy in the history of chocolate".
There are two flavors: black (aromatic cacao) and white (rich milk tea).
The pie is made by pie chefs who weave layers upon layers of pie, soak the pie in chocolate, and coat the surface. The result is a rich, rich finish.
The palm-sized tin can is topped with a hand-drawn magnet. The tin can is also easily used as a glove compartment. The magnets can be used as they are or as cute accents to decorate whiteboards, refrigerators, etc.

We recommend this as a gift to express gratitude, greetings for the approaching season, casual souvenirs, and other "just a feeling".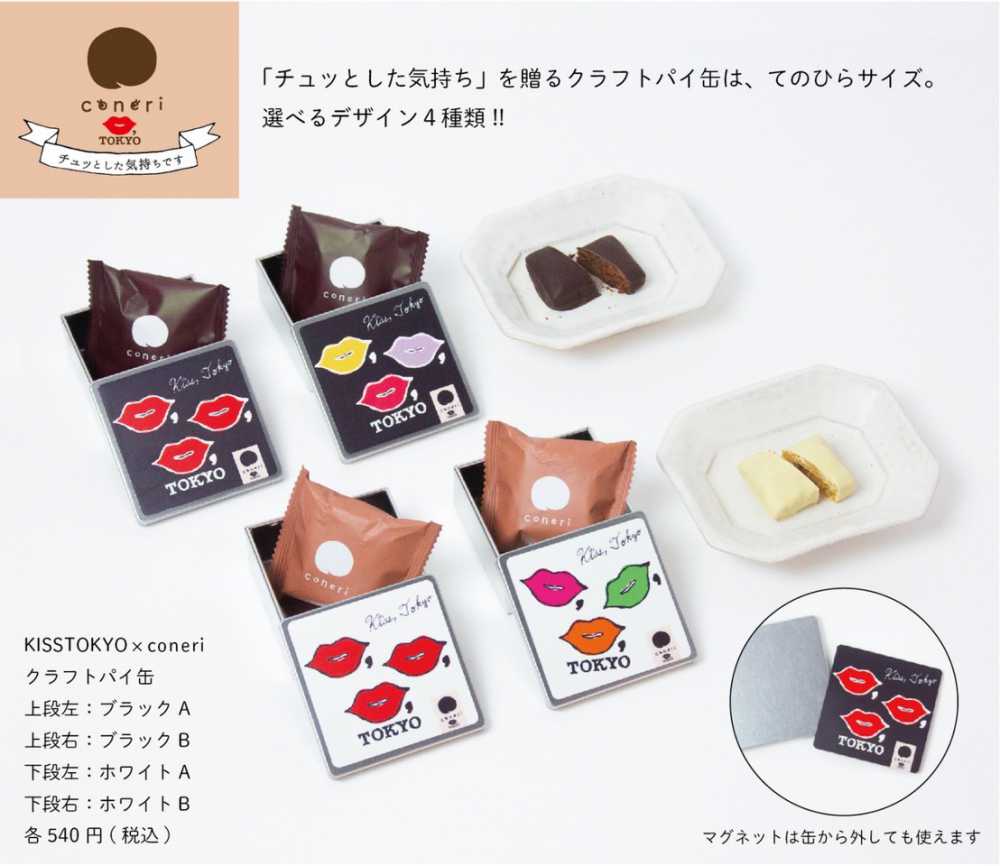 【Sales Stores】
◆coneri Shibuya Ecute Edition Shibuya Store from Saturday, March 18, 2023
Shibuya Scramble Square Ecute Edition 1F, 2-24-12 Shibuya, Shibuya-ku, Tokyo 150-0002, Japan
Business hours: 10:00 – 21:00
Phone: 03-3498-2345 (store direct line)
*The event will end as soon as the limited number of items are sold out.
◆Special web store for the limited time of the event Ordering period: 3/18-3/31
https://kisspopup.base.ec
Limited shipping dates (3/20, 3/27, 3/31)
KISS,TOKYO x coneri Kraft Pie 4-piece set including 2 black and 2 white pies (2,160 yen/tax included)
◆KISSTOKYO booth at the following two events: 3/18, 19, 25, 26
KISSTOKYO booth at "THE Daikanyama Shoten" held at Daikanyama Address Dise on 3/18(Sat.) and 3/19(Sun.)
KISSTOKYO booth in "SHIBUYA SLOW STREAM" at Shibuya Stream on 3/25(Sat.)26(Sun.)


The collaboration with SOIL TABLE by Raku-no Kenkyujo, which uses fresh fruits from Ehime, was born from the relationship with James Akiyama (Shinya Akiyama), the founder of KISS, TOKYO, who moved from Tokyo to Ehime Prefecture. The project was born from the relationship with Mr. Akiyama (Shinya Akiyama), who moved from Tokyo to Ehime Prefecture. The "kiss, strawberry compote" (1,290 yen (tax included)) is a luxurious compote of strawberries grown in Ehime in 2023, the peak of the season.

This season marks a milestone in our lives. Congratulations, thank you, we are cheering for you, we are doing our best in Tokyo…. Please look out for these items that convey such feelings in a cute and stylish way.

For the release on this matter, please click here.
https://prtimes.jp/main/html/rd/p/000000023.000029226.html