We opened a pop-up store at "SHIBUYA SLOW STREAM" held at Shibuya Stream on March 25 (Sat.) and 26 (Sun.). Following the previous week's pop-up at Daikanyama Address 17dixsept, we opened our store for the second week in a row with pie specialty store "coneri Shibuya" and craft beer "Shibunama", which is only available in the Shibuya Ward area. Unfortunately, it was raining, but KISS, TOKYO booth was located in a hall, so many customers were able to enjoy a relaxing shopping experience.
KISS, TOKYO x coneri Kraft Pie tin, a collaboration product with coneri, is the perfect gift package to send a "a little feeling" that is typical of KISS, TOKYO. Tasting samples were available for visitors to enjoy the combination of crispy pie and chocolate. At the eat-in space next door, visitors enjoyed coneri's pies and Shibunama beer. 
Since the event was held in Shibuya, many people were familiar with KISS, TOKYO Bench Object near the Shibuya Stream and Shibunama. We were also able to introduce KISS, TOKYO to foreign tourists and people staying in Tokyo.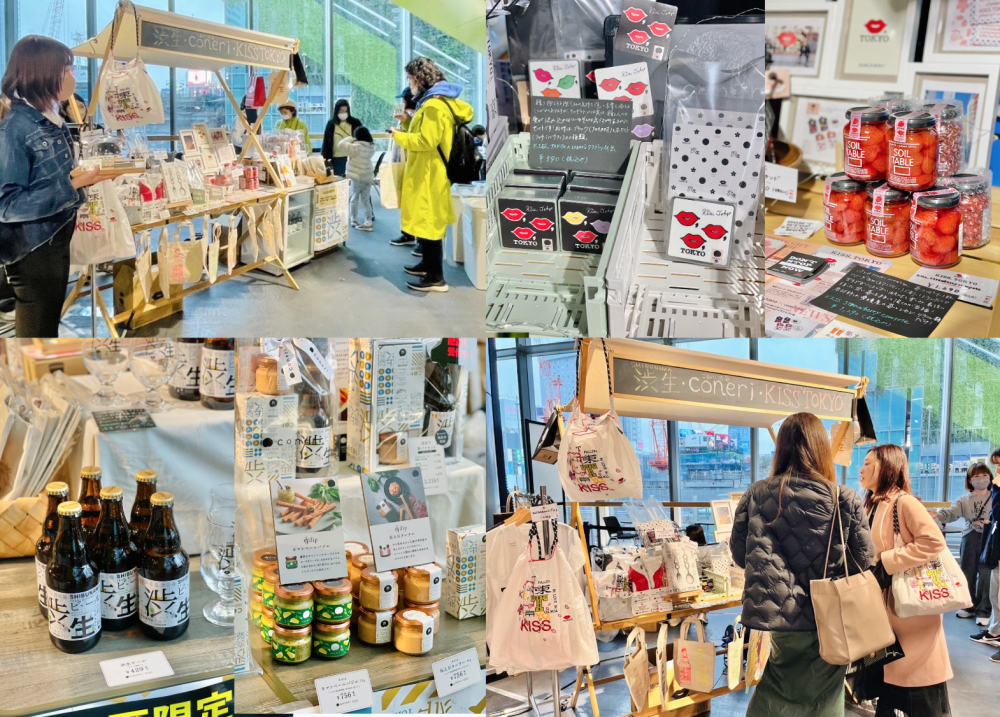 KISS, TOKYO x coneri craft pie tin" with coneri, "kiss, strawberry compote" with SOIL TABLE, and Shibunama official goods will be on sale until 3/31 at the following special web store.
◆Special web store for the limited event period Ordering period: 3/18-3/31 ▷https://kisspopup.base.ec
Limited shipping dates (3/20, 3/27, 3/31)
・KISS,TOKYO x coneri Kraft Pie Tin Set: 4 types, 2 black and 2 white, 2,160 yen (tax included)
・Strawberry compote: Kiss, strawberry compote1,290 yen (tax included)
・Shibunama glass 1,760 yen (tax included), Shibunama mini tote 660 yen (tax included)


▼ Click here for news about SHIBUYA SLOW STREAM store openings.▼
【2023/3/1】3/18(土)19(日)、3/25(土)26(日) 都内2つのイベントでポップアップ!<渋生(しぶなま)><coneri(こねり)>と3社共同出店、新商品も続々お目見え!
【2022/3/22】「SHIBUYA SLOW STREAM」にポップアップ出店しました
【2022/3/9】3月19-20日 「SHIBUYA SLOW STREAM」に2日間のポップアップ出店
【2021/3/15】3/20-21「SHIBUYA SLOW STREAM」にて2日間のポップアップショップを出店